After spending some times modifying and motorizing the mighty Land Rover Defender 42110, I wanted to make my own off-road/suspended/gearboxed/motorized vehicle. In addition, I just had the new planetary hubs from set 42099 that I wanted to test in a MOC.
I don't really like working with gearbox, neither with suspensions, but hey, it's a good opportunity to learn.
Truck general design –
I like to work with small scale vehicle, but unfortunately the build is complex due to the low amount of space available. So this will be a "large" 6×6 truck mounted on 81.6×36 tires. These tires where later replaced by Thicon 83×25 (see here for info), fully compatible with the 43×24 wheel hub. As they are narrower than balloon tires, they also simplify the general construction, in particular the front steering axle.
Regarding the aspect of the truck, I couldn't decide if it would look like an European truck (flat face) or more like a long-nose truck as a Zetros or a Russian ZIL.
The whole truck will be powered and controlled by a single Buwizz Brick.


The problem I have with suspension is particularly the front axle. I never really succeed to create a compact and suspended driving + steering axle, except by copying the work from other MOCers.
Unfortunately, the Dacoma forward independent suspension couldn't accommodate the new planetary hub, so I have to build it on my own.
I finally came to build a pendular front axle with a good ground clearance but a limited steering angle. To complete it, the use of spring suspension was not the best choice so I decided to go for a springless suspension, a larger version from what I used in my 6×6 tracked truck.
To make it simple, there is two driven axle linked by a turntable, and supported by two beams. Movement are totally free so all 4 wheels are always in contact with the ground.

Gearbox design –
There were three constraints taken into account to create the gearbox:
– First, the planetary hubs have a gear ratio of 10/44, so to have an acceptable driving speed the gearbox have to accelerate the motor rpm and not reduce it
– Second, the truck is able to skip from 4×6 to 6×6. In order to simplify things 4×6 will be high speed and 6×6 low speed. No central differential and no 6×6 high speed (would have been useless)(and also I'm lazy).
– And finally 3rd, use an orange selector from Land Rover or Bugatti actuated by a Servomotor.
The final gear has 3 positions (from left to right on the picture below):
Position 0 (Low gear): The gear ration is 1:1, only 16t gears are used. As a consequence all the rpm and torque from the two XL motor are sent directly to both forward and rear axles. The speed is so approx. 1/4 of the XL motor speed. It is very slow but the truck can move and climb almost any surface. It is a real pleasure to play with.
Position 1: no gear engaged.
Position 2 (high gear): only the rear axles are powered. The gearbox ratio is 25/9 (20t/12t x 20t/12t), and the final gear ratio after planetary hub is close to 1:1. The truck speed is good, but it has not enough power to climb easily during outdoor run.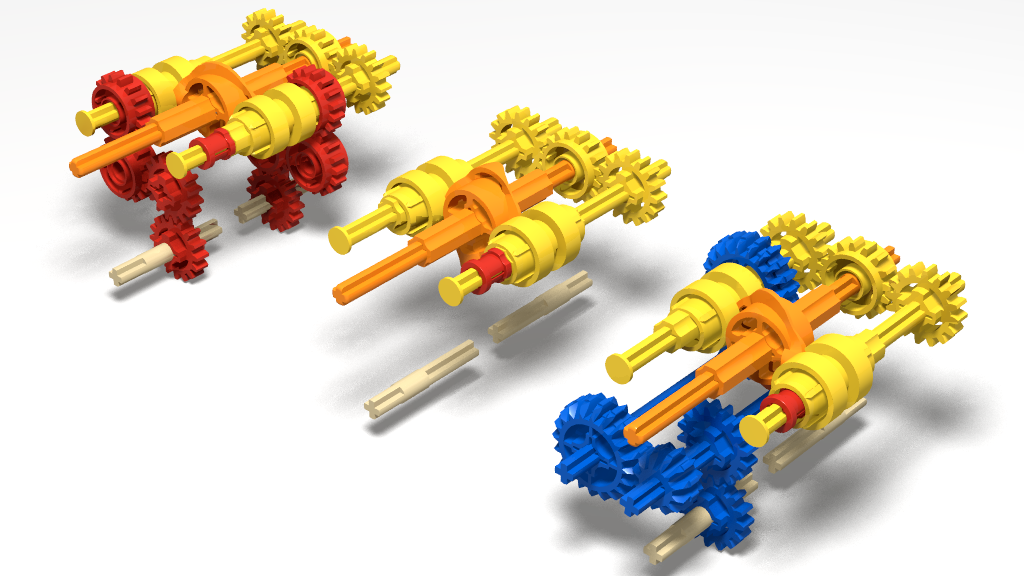 Bodywork
The choice of making it look like a Zetros came later in the building process, after building the chassis has been completed, it was the easiest way (remember? I'm lazy)to have an openable hood and add the fake V6.
It so has a long nose, a cabin with two seats, a spare wheel and an accessory box that hides the Buwizz, and a rear platform.

Final thought
The truck is working well but there is some issue with the steering. First the angle is very limited so the turn radius is very important, not ideal for outdoor, and secondly it sometime crack and is misaligned. These two points however can be easily solved.
Thank you for reading !