The Toro 60 is a 60t truck buit by Toro/Sandvik. It is a new approach of the underground mining application, by using a rigid frame truck instead of an articulated one. This allows to have a larger payload for a similar size truck.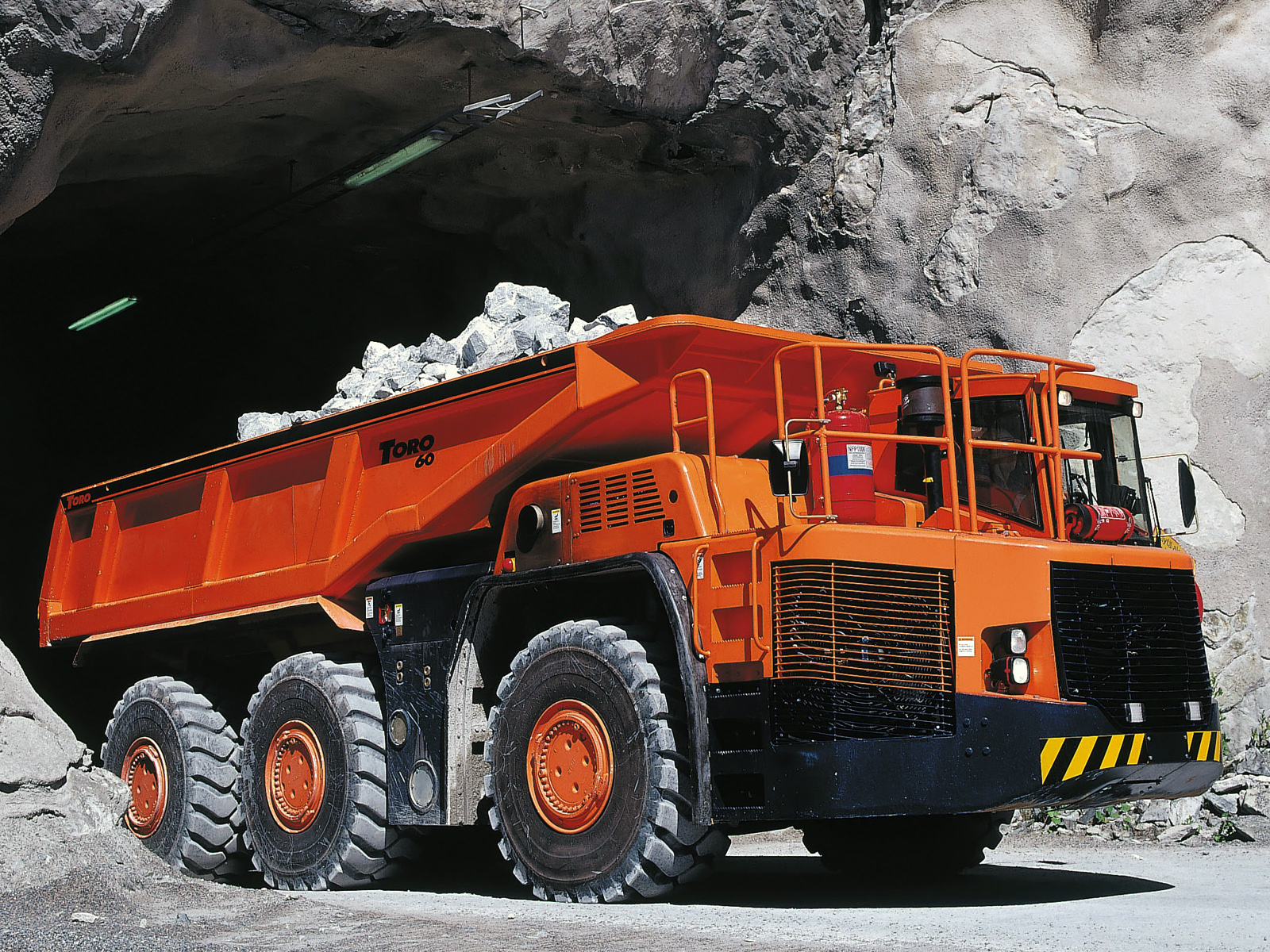 The Toro 60 is 6×4 truck, with a steering rear axle allowing to take sharp turn in gallery.
Here is a presentation video of the truck :
The MOC:
This MOC is a simple reproduction of the main function of the real truck, as well as a cosmetic challenge to reproduce its unsual aspect. It is not mounted on suspension because I'm lazy because the rear steering-driven axle was a huge mess to create. And also because I'm lazy.
It is powered by a Lego rechargeable battery and a SBrick bluetooth controller.
All images are available on FLickR
Propulsion.
Axle 2 and 3 are powered through a PF-L motor. It was the best compromize between compacity and power. It fits well in the chassis between the two axle, but unfortunately there is a little lack of power for the outside run. A PF-XL motor would have been a better choice, but harder to integrate int he structure.
Steering.
The front axle is a classic Ackerman steering, and the rear axle is rigid and mounted on a turntable, like the real truck. Both axle are powered by a single PF-Servomotor.
If you already played with a large turntable you should have noticed that if you gear directly a PF-SM on it your turntable isn't straight, it has a slight angle. To compensate that, I geared the control axle with a 16t/16t: there is no onger an angle but it reates some slack in the direction.
Tipper operation.
On the real truck the tipper is actuated by to large and very (very)(very) long hydraulic jack on the forward part of the tipper. This kind of part doesn't exist in Lego so I used classical large Linear Actuator. It works well when the tipper is empty; It's a lot more difficult to raise it when fully loaded.
Details and cosmetic.
The front part of the MOC has been worked (more than usual) to represent as accurately as possible the original Toro 60.
There is some asccess point and handrail on both side of the face. The massive front radiator shows the big fan, and the cabin is simple but includes a seat and a (on-functionnal) steering wheel.
Thank you for reading !