Sandvik TH.680 – Pneumatic version
Sandvik is a swedish society founded back in 1862. It is mostly known for their rock and mining equipment, in particular lowered truck, loader and other for underground mining.
The TH 680 "Supra" (originally built by Toro) was at its release the largest underground truck built by Sandvik. It is an 10×4 truck with a maximum payload of 80t with a side dump haul. The unusual design present a lot of advantages: the large number of wheels (20) and the compact conception allow to have a very (very) high payload for a reduced size, and thanks to the 4 steering axle, the truck is able to take very sharp turn and can so operate in the same underground gallery than other Sandvik equipment.
You can find some technical information about the truck here below:
+ https://drive.google.com/open?id=1P9sX4CZw2jQYa9w1tpIxjKnXq7d4Aaua
+ https://drive.google.com/open?id=1NDXv3GsXxTaIAXuc2owzANse9bG18PBA
With two videos :
+ https://www.youtube.com/watch?v=gcET2tvP3X8
+ https://www.youtube.com/watch?v=ID-fTex8Bm8
The moc tries to respect the original truck as much as possible.

All pictures are available on FlickR
Axles 1-2-4-5 are installed on large turntable and are steering. The HoG is installed above the cabin
Axles  3 and 4 are equipped with differentials, they are the driven axles on the real truck.
The cabin at the front is minimalistic with only the pneumatics valve installed. There is two of them, one for opening the haul doors, the other to tilt it.
At the front of the truck there is also a sliding hood revealing the L6 engine (you can find here a video showing how it is built) and fan.
The side tilting haul is the biggest part of this truck. On the right side there's a big door on all the length that open in two parts. Both part are actuated by a pair of mini pneumatic jack and the haul is then tilted thanks to two large pneumatic jack.
The pressure line management has been a real nightmare due to the number of line and connection to install.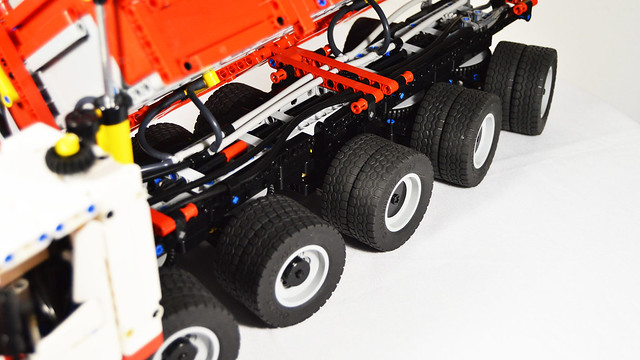 Footnote:
Initially, I was planning to make it pneumatic and fully remote controlled. But I had a lot of issue with the pneumatic, in particular with the pump that did not provide enough pressure to open the doors. The weight of the battery and 4 motors also bended the chassis a  lot, so I take a step back to make a manual version. Not too bad but could have been better I guess.
Thank you for reading.