You may remember I have a particular affection for the ugly and/or strange vehicles.
One of my favorite of all time is the aircraft super tug AST-1X 1360 from Goldhofer. Why? Because it looks like nothing else. 6x6x6 wheels, all imaginable steering mode, enough power to tow the biggest A380 fully loaded.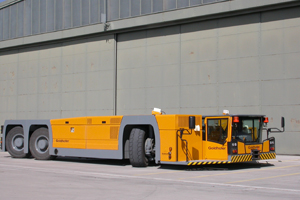 I already made a try to build it in 2016, but I encountered too much issues: the frame was not stiff enough for the heavy chassis; the gear can't forward all the power to the wheels so it was bending and not drivable.

The full album is available on FlickR.
The 2017 has a major change: it is built like an exoskeleton. There is no chassis inside; it's the exterior panels that support all the loads.
The truck is motorized and controlled through a Sbrick module:
PF-XL for propulsion
PF-M for steering trough linear actuator
PF-M to close the gate
PF-M to lift the aircraft wheels
Regarding the aircraft's wheel, the system can adjust to the type of aircraft: the gate are close by worms gear mounted on clutch, during the same time a linear actuator pushed the shield to come closer to the wheel.
Even if the MOC is one of my favorite, I may restart the AST-1X one day. Firstly to make it with blue/white Fraport color scheme, and secondly to finally make it all wheel drive and all wheel steering.
Family picture with the other airport truck:

And you probably have seen its twin on Youtube. I call it twin because the two AST were release few days apart.